Sharing Family Travel Memories with the Next Generation
I don't know if it is because I'm a southerner, or because some of my "people" came from there, or if we always have a good time there, but the beauty of the Great Smoky Mountains National Park is dear to my heart.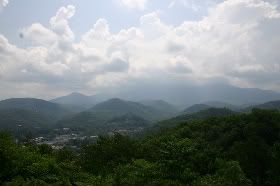 Back in the day, my parents would bring my brother and I to Gatlinburg where we would eat, shop, eat, hike, eat, and go places like Cherokee, The Nantahala River, and Silver Dollar City(which is now Dollywood). We've even been fortunate enough to spend a few Christmas holidays with our extended family in a cabin on a mountain. This is a big deal to those of us from South Louisiana, because the closest thing we have to mountains are the Mounds at LSU.
It is only fitting that I schlep my children across the south to see this great wonder of childhood memories. Last summer I promised the kids that we would visit Sevierville, TN near the Smokies. However, Mother Nature had other plans for our family and Mr. CajunMama was sent off at the last minute to fight a wildfire somewhere out West. Not one to disappoint my little ones, I loaded up RedBugg and we headed out for parts unknown. ALONE.
I mapped the route on MapQuest and we opted for a halfway overnight stop in Tuscaloosa, AL at a budget friendly hotel I found on Expedia. Things would have been perfect, but our entire hotel was decorated with ALABAMA ROLL TIDE paraphernalia. As an avid LSU Fan, I kept reciting to myself, "Around the bowl and down the hole, Roll Tide Roll." This was of course, the only way I could make myself feel better about sleeping in Tuscaloosa.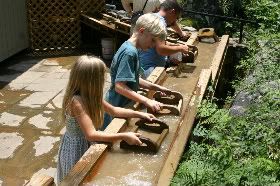 Along our route the next day we began to see old barns and rundown road signs painted with "See Rock City". I decided to be a good mother and take my children to Rock City in Chattanooga, a place I fondly remember with little gnomes dresses in felt, hiding behind rocks, a waterfall, Fat Man Squeeze (which my brother and I would gasp in wonder that my dad could actually fit through), and the overlook where we could see seven states. Of course, the thing that impressed the kids the most was the doggie water fountain at the entrance.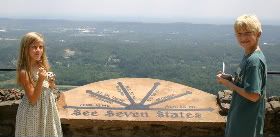 I allowed the kids to take the map and lead the way. The first stop was an ice cream stand. Then there was the section where you could pan for gems in running water. Then there was the jeweler with items made from the gems found in the running water. FINALLY, we made it to Lookout Point. I sat in the shade with bowls of ice cream slowly melting down my arms as I watched my kids giggle and laugh and try to point out each state. I really missed my husband at that point, but I was so glad to have this memory, of the wind blowing my daughter's hair and my son squinting at me with the sun glinting off his metal mouth grin. Sometimes having special time with just the kids is just that….very special.
And to think we hadn't even made it to the destination yet! Here's to Mama Time.