Winning Wednesday: Josh Groban Awake:LIVE CD/DVD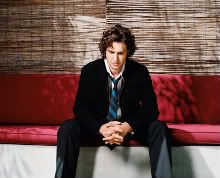 I still HEART Josh Groban and our three winners from our giveaway will love him also, if they don't already. If you aren't a winner, never fear, you can watch a 20 minute video which is an excerpt of the DVD or just go visit Josh's site and buy yourself a copy. It is worth the investment of less than $30. who are our winners for this great giveaway. Someone from Josh's peeps will contact you by email to find out where you want your prize delivered.
Congratulations to Janet F, Holly, and Darlene Belle
MountainMama admitted to me that she listens to Josh Groban's music before she gets on a plane. She says that it sooths and calms her before a flight. I wonder if she listened to him before her sky dive? Hehe.
Be sure to take Josh along with you on a romantic roadtrip or girlfriend giveaway. The Traveling Mamas will be sure to take Josh on our girlfriend getaway next week. Its a shame we won't have the real Josh, but a mama can dream!