Peak Viewing for Fall Foliage in North Carolina
All across the state of North Carolina, the fall colors are decorating the rolling hills and mountains. This weekend would be a great time to load up the family and take a road trip to the western part of the state since the colors are at peak all along the Blue Ridge Mountains of North Carolina.
Take a virtual stroll through the mountains with me and see how beautiful the fall foliage colors really are!
Asheville, North Carolina – One of my favorite places to visit is located in Asheville, North Carolina, the Biltmore Estate. I recently spoke with Parker Andes, Biltmore's Director of Horticulture and he said:
"This year's fall color looks to be shaping up nicely. Most areas of the mountains had enough rainfall to keep trees in a good healthy condition. Healthy trees have lots of leaves. While there were periods of low rainfall, with some higher than normal temperatures, the mountains around Asheville have had plenty of rain toward the end of the summer.

Dry, cool and clear weather helps the leaves stay on the trees a long time, and triggers the green chlorophyll pigments to degenerate, allowing the colorful yellow and red pigments to show through. Colors show up better on those bright blue bird days of autumn. The sunlight shining through colored leaves gives them that warm glow.

Red oaks around Biltmore seem to be particularly full in leaf this year."
Just take a look at this picture that was snapped at Bass Lake around the Biltmore Estate.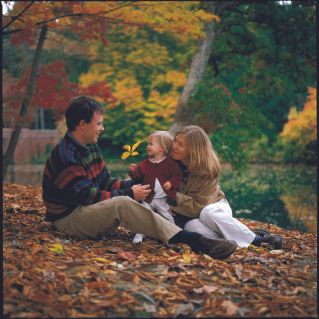 I highly recommend this time of year at the Biltmore Estate. I had the pleasure of visiting with my family this time last year and being able to stand out on the deck high up in the Estate to see the beautiful leaves. Just being able to take in the fall scenery on their farm was phenomenal for our entire family. Their annual gardens are now filled with Chrysanthemums, or "mums," and other Fall flowering plants. The peak for mum color is right now. The fall asters, sunflowers, sedums and ornamental grasses are also beautiful in the Walled Garden and at Antler Hill Village at this time of year.
Blowing Rock, NC – The color is just beautiful right now all around the beautiful town of Blowing Rock. BlowingRock.com is featuring a fall leaf status update on their site each week showcasing the beauty that is all around this sweet town. Here are a few pictures that they were showcasing on their Facebook page this week.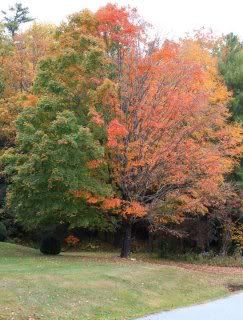 There are so many things to do with your family in Blowing Rock, such as Tweetsie Railroad, an area amusement park. This railroad has been there for as long as I can remember. Do you remember Fred Kirby? He was a  highlight of this place back in the day. A treasured individual for sure. Tweetsie is showcasing their fall scenery as well right now. The fall colors and the fun entertainment is a memorable fall family travel event.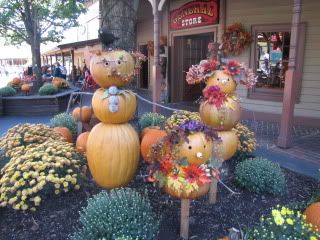 Tweetsie offers a variety of rides for the entire family: the awesome chair lift, a gem mining and a huge petting zoo. You will be able to experience all of this for one low ticket price. An added value is the mountaintop location to view the beautiful fall leaves that are in peak color right now.
October is the month for fun and scary events all over the US and even at Tweetsie Railroad. Are you up for a scare? Then you will need to take a ride on the Ghost Train that Tweetsie offers during the  month of October on specific nights.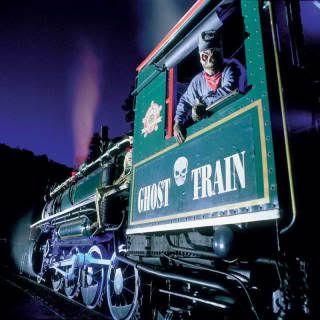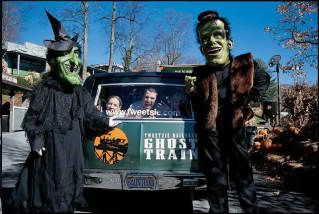 The Ghost Train is Named one of the Top 20 Events in the Southeast by the Southeast Tourism Society. The park takes six months to prepare for this annual event. There is a 13 room Haunted House on site for those searching for the ultimate scare. The Ghost Train is Friday and Saturday nights thru October. Gates open at 7:30 each night. Go if you dare to be scared!
As you can imagine, there's a so much fun to be had in the Blue Ridge Mountains. The weather, the beautiful fall scenery and the activities are what makes this time of year one of the optimal times to visit. I'll be back in the mountains soon to highlight another area of North Carolina that's a showcase of fall colors during this time of year.
So don't sit around this weekend. Grab the family and take a trip to the Blue Ridge Mountains of North Carolina!
Special thanks to Biltmore Estate and Tweetsie Railroad for hosting me and my family. All comments here are of my own opinion.