Discover Maui's Upcountry
My travel companion and I decided to relax during our visit to Westin Maui Resort and Spa. The two of us spent a day enjoying lomi lomi massages at The Heavenly Spa while the other Mamas went hiking. We found out that the lavender spa products being sold were made right there on Maui. So we hopped in the car the next morning in search of lavender.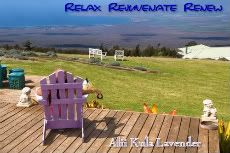 Ali'i Kula Lavender is located in Maui's Upcountry, which is a day trip experience that will delight all the senses. The drive from Ka'anapali was a beautiful, relaxing 1hour journey into the higher altitudes of Maui. We could inhale scents of ocean and lavender at the same time. The calmness of the Upcountry enveloped us in a comforting embrace.
Upon our arrival to Ali'i Kula, were were greeted with warm lavender scones topped with lavender liliko'i jelly, lavender herb tea and lavender coffee. We sat at a corner table overlooking the gardens and valley while we awaited our tour. Our guide, Cookie, came to lead us around the gardens, snipping flowers here and there while educating us on the different types of lavender. By the end of the tour, each of us had a small bouquet of lavender. Of course I had to stop at the gift shop on the way out and my travel companion had to drag me out of there before I spent all of Mr. CajunMama's money.
Our next stop was Tedeschi Vineyards, Maui's Winery. It is said Ulupalakua simmers in each sip and that you can taste the sun, the soft evening fog, and a hundred years of history in each glass. We were already relaxed from the scent of lavender that enveloped the car, so we decided wine tasting was a fitting activity to pursue next.
Maui's Winery Tasting Room is located in a historic cottage. The cottage was built in 1874 for King David Kalakaua. My companion and I walked up to the bar, which is made from the trunk of a mango tree. The winery offers grape, pineapple and specialty wines.
I'm not a big red wine lover, so I chose to taste the Upcountry Blush, Maui Blanc, Maui Splash, and Raspberry Wine. The Blush is a fantastic choice to bring home to friends and family. It does not need aging and its light berry flavors are subtle, yet nice. The Maui Blanc is my favorite. It is a pineapple wine with a subtle lingering tropical finish. The Splash was a delight as well, but very sweet with its essence of passion fruit. The Raspberry Wine tasted like a chocolate covered raspberry with a rich and full flavor that stays with you.
The Winery will ship your order to certain states, depending on your local laws. This is a great help in bringing home memories of Maui now that the airlines are charging for baggage. Unfortunately I brought a small suitcase and my state does not allow me to ship wine home. Pooey! I guess that means I'll just have to go back to Maui.
We stepped across the street to the Ulupalakua Ranch Store and ordered burgers for lunch before heading out to find Surfing Goat Dairy, our last stop for the day. We went the wrong way and ended up being surprised by an ocean overlook. By the time we figured out the direction we needed to be going, we had the giggles. My travel companion and I were reminiscing about our favorite SNL skits of days gone by. We thought GoatBoy was fitting for the moment and we couldn't sto-o-o-o-p laughi-i-i-ing!
Surfing Goat Dairy was a delightful surprise. At first we thought we just driving through a neighborhood when a long drive of palm trees appeared with a well-manicured entrance. We walked around the to the outdoor café with its funky surf architecture. The place just had a cool vibe. Tours are available and visitors can even milk a goat, but we opted to try a sampler of Surfing Goat Dairy's award winning cheeses. The offerings are so delicious, it is no wonder their product is in demand at fine restaurants around the globe.
The day was wonderful and Maui's Upcountry is suitable for families (except the wine tasting), romantic escapes, and girlfriend getaways. We even noticed a number of solo travelers biking their way around the Upcountry. Take some time to get away from your resort and discover the surprises Maui has to offer.