Road trips can be a fun time to reconnect with the family, play cheesy road games, or even make random stops along the way. When I hit the road in RedBugg, I always like to seek out the bizarre and kooky roadside attractions that can still be found along America's highways and byways.
One site I use to help me find those crazy places is Roadside America, a guide to uniquely odd tourist attractions. Travelers can find sights by state or city and can then read updates by recent visitors. Here are a few of my favorite roadside attractions.
Rock City -This is a classic stop in Chattanooga, TN that has also been a favorite of my family for generations.
The Cadillac Ranch – Who knew that colorful Cadillacs could be found sticking out the ground in the middle of a field near Amarillo, TX.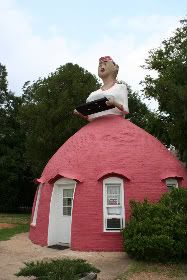 Mammy's Cupboard – This place is sooo not politically correct, but this Natchez, MS stop has been featured on the Travel Channel and also dishes up lunch Monday through Friday.
Museum of Appalachia – Yup. We spent hours at this Clinton, TN stop and couldn't seem to stop looking at things such as a Ukeweewee (Banjo made out of a bed pan) or the morbid collection of death items.
The International UFO Museum and Research Center – We made a stop in Roswell on a road trip and ate at the space ship shaped McDonalds. The street lights have alien heads on top that lead to the museum. This place is for hard-core UFO researchers and doesn't offer too much for kids, except a really big gift shop with a lot of alien paraphernalia.
Old Sparky – The Louisiana State Penitentiary (Angola) has a museum just outside the prison gates where visitors can see "Old Sparky", which is a decommissioned electric chair. The museum is free and also showcases homemade prison weapons confiscated over the years. If you want to scare the you-know-what out of your kids to keep them in line, this wouldn't be a bad stop to consider. I wouldn't bring little kids, though, as there are some pretty gruesome photos inside.
Hole N' The Rock – This Moab, UT cliff dwelling took 12 years to complete. A couple operated a diner out this 5,000 square foot home. It is now a gift shop and museum. Don't forget to check out the two story outhouse while you're there.
This list could go on and on, but shows what crazy things one can discover in the USA on a road trip. So, what are some of the kooky places you've seen along your travels?