Your Questions Answered: Girlfriend Birthday Getaway near East Coast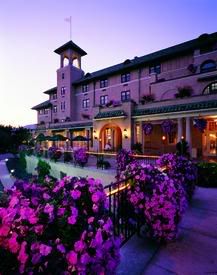 I was recently contacted by my high school friend, Kristina, who wants to celebrate her 35th birthday with a Girlfriend Getaway. She lives in Frederick, MD and would like something close enough in case the kids get sick, but far away enough to relax. I did a little research and found out that she is only a 90 minute drive from one of the sweetest places on earth, Hershey, PA and I have two words for Kristina – SPAJAMA PARTY!
I can't think of a better place to celebrate 35, because not only do they offer decadent spa treatments and a place for all the girls to hang out, but there's chocolate to make you feel better. For those of you who participated in GNO or TwitterMoms' first wine-tasting event, the discussions included talk of chocolate and wine. So I searched around and found that if Kristina and her friends choose Hershey, PA as their destination, then she can include wine tasting at wineries on her route.
If staying at Hershey Lodge or The Hershey Hotel aren't your thing, then you can check out BedandBreakfast.com, which offers smaller places to spend a few nights with the girls, drinking some of that wine you picked up along the way and just giggling and visiting in front of a warm fire on a cold January night. Don't forget to pack the bubbly too.
This is what I would do:
Book one or two nights at The Hershey Hotel or Hershey Lodge.
Schedule a Hershey Hug ($220, 2 hrs) Includes a spa rain shower, hydrating body wrap, and 50-minute cocoa massage.
Enjoy a fabulous dinner with the girls at the Circular Dining Room.
Celebrate with a glass of Champagne, toasting the big 35!
And finally, just have a wonderful birthday spajama party. Happy, 35, Kristina!
Where would YOU suggest Kristina and her friends spend an all-girls birthday celebration?
Photos courtesy Hershey Entertainment & Resorts.