Missing Missouri's Wine Country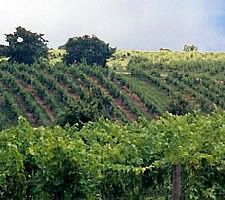 A couple of weekends ago I was supposed to be in Missouri's Wine Country. I was looking forward to spending a few days with the other mamas at Travel Media Showcase, and then I was to take a train to Hermann, MO to begin exploring the area. Thanks to Gustav, my plans were foiled. No days of tasting vino, enjoying daily picnics and fine dining, or relaxing at various B & B's.
Instead, I was either stuck at work answering 911 calls or visiting with all the people who ended up hanging out at my house because I had power. My washing machine washed non-stop as friends and family began to run out of clean clothes after Gustav. I didn't mind, really. But I couldn't help wishing I was somewhere else. Milk was running low, the bread had all been eaten, and I was getting very tired of eating Slim Jims. FEMA does a wonderful job of advising people what they need to prepare for natural disasters, but they did leave out a few things, like wine.
So, I decided to have my own wine tasting with the libations I have collected through my travels. My sister-in-law and my neighbor joined me in this exploration of the taste buds. Sometimes a mama just has to roll with the punches, so if this mama couldn't get away physically, then I would take a mental vacation. We went high-class and broke out the fine Dixie cups we had on hand. At this point, we weren't really concerned with rules of wine tasting or being proper Southern women. And so the journey began….
Louisiana – We started with Evangeline, a muscadine wine from Feliciana Cellars.
Tennessee – I stopped in at Shady Grove Meadery during a visit to Oak Ridge, TN. I like to read romance novels, and mead has been mentioned once or twice in a few of these books. I always wondered what it tasted like. We sampled the Poplar/Clover Mead It is a honey-based drink that is a bit heavier than traditional wines. On another visit to this beautiful state, I picked up some apple wine from the Apple Barn Winery in Sevierville. We tasted an apple-raspberry wine that was nice, but super sweet.
Germany – Ok, so I haven't visited Germany yet, but I did go to Epcot at DisneyWorld in Orlando. On my last visit, I picked up a bottle of Eiswein. I had been saving it for a special occasion because it is so expensive, so surviving another Hurricane seemed as good a time as any. It is produced from grapes that were frozen while still on the vine. It is a very sweet dessert wine and should be served in small quantities. Did I mention that I LOVE Eiswein?
Hawaii – What can I say about the pineapple wine? Yummy!
We had to stop there before the room started spinning. We giggled and laughed and kept telling war stories about memorable hurricanes that have passed, like Andrew, Katrina, Rita, and Tropical Storm Allison. In the Gulf States, we refer to these storms by name (and call them a few names as well). We even came up with a new word, Craptastic. You know, when things get crappy but all you can do is laugh. Well, we had a craptastic time enjoying a few bottles of wine. Maybe one day I'll get a chance to see Missouri's Wine Country. I'll add it to my list.