Secrets for Families in Oak Ridge, TN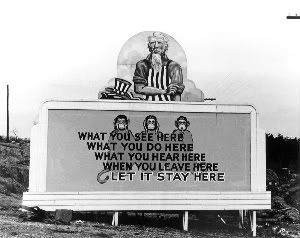 When I first heard of Oak Ridge, TN, I thought of the country group, The Oak Ridge Boys. Back in my younger years (11?) we would all go around singing "Elvira" in the deepest voice we could manage. Well, the Oak Ridge Boys aren't even from Oak Ridge, but that's a whole 'nother story. Oak Ridge is really one of the US Government's Secret Cities that were all part of the Manhattan Project.
Visiting this city is not only a lesson in US history, but it also is one of the most scientifically advanced laboratories in the world (did someone mention an invisibility cloak?). It is hard to imagine that a rural farm town was eradicated by the government and built into a city in mere weeks, all without anyone outside knowing about it. I visited Oak Ridge a few weeks ago and then stopped by again so my family could experience what I continually talked about. So here is a mini guide of Oak Ridge and the surrounding area.
Where is it? Oak Ridge is located about 30 minutes northwest of Knoxville.
Where can a family stay overnight? The Hampton Inn Oak Ridge met with my clean inspection and offers spacious rooms with mini fridge, indoor pool, free wifi, and a hot breakfast daily. There are other lodging choices in the city, but this is the only one I've stayed in.
What is there to do? The American Museum of Science and Energy is definitely a first choice for families. Mr. CajunMama insisted that we could only stay about two hours, but five hours into our visit, we had to drag him away from the hands-on exhibits so that we could eat a very late lunch. There is a public bus tour that runs M-F but my suggestion is to go adult-only for that ride. If your kids are interested in seeing some of the older building in the original secret city, then the K-25 Overlook is your best bet. However, the public tour takes you inside some high-security sites that you can't see on your own.
Children's Museum of Oak Ridge is a former elementary school turned cool place to visit. Don't let the name fool you, as I was quite surprised and how entertaining the facility is for adults too.
Secret City Excursion Train is a 12-mile tour through the K-25 site.
The Museum of Appalachia is this wonder set in the nearby town of Clinton. Word cannot even describe the wonder of this place. It is a 65 acre complex that is dotted with 30 log structures from Appalachian history. One building, The Hall of Fame, contains some of the most bizarre yet interesting items about pioneer life. Founder, John Rice Irwin, painstakingly wrote by hand the history of each item collected at this museum. This place deserves a post all to itself.
If you are looking to kick back and enjoy the countryside, River Ridge Farm offers horse-drawn wagon rides around their farm for families. Be sure to give Bill and Nell (the horses) a big wet one for me!
What if we get hungry? If you are still at the Museum of Appalachia, then lunch here is a must. One of the ladies, Ms. Faye, makes a banana nut cake that made me want to weep when I tasted it. The menu varies daily, with most items being grown in the museum garden.
Big Ed's Pizza is a popular eatery that serves just pizza and drinks. This no-frills joint was so good that I had to bring the entire family back just to make sure I wasn't dreaming up how good it is. They all agreed that Big Ed's is a must-eat in Oak Ridge.
The Soup Kitchen serves up a multitude of soups to please every palate. I ordered some bread with my soup and was surprised to be served up a fresh mini loaf that was delicious.
Hot Bagel is a good choice for breakfast. I know it is a bagel shop, but the blueberry scone I ordered rivaled the ones I enjoyed in London.
If you plan to visit Oak Ridge or just want to learn more about its history, visit their official site here.