Boycott the Staycation Ultimate Giveaway: Busch Gardens Williamsburg
Williamsburg, VA is the first REAL vacation this Traveling Mama ever experienced. My brother was too young to go, so I had my parents all to myself as I experienced Colonial Williamsburg with its living history. In fact, I still have the Martha Washington rag doll I begged my parents for and I recall sleeping many nights in my Colonial mop cap that I refused to part with. So, I am very excited to announce our Ultimate Boycott the Staycation Giveaway. The folks at Busch Gardens Williamsburg and Embassy Suites really want to help a lucky reader and family spend some quality time AWAY from home.
Busch Gardens in Williamsburg is a European-themed park bursting with adventure at every turn. Busch Gardens took roller coaster design to bold new heights in 2007 with the debut of the world's tallest and first floorless dive coaster, Griffon. Situated on 100 action-packed acres, Busch Gardens boasts more than 50 thrilling rides and attractions, ten main stage shows, a wide variety of award-winning cuisine and world-class shops. With something amazing around every corner, your family will come together like never before.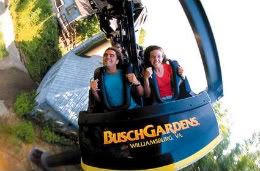 With this great giveaway, you can experience Howl-o-Scream at Busch Gardens Williamsburg as a romantic escape, a girlfriend getaway, or with a few dollars more, the entire family can enjoy. Don't be scared to bring the entire family during this fun time at Busch Gardens. The official Howl-O-Scream site rates rides and events for families so you'll know if something might be too scary for the littlest ones.
The whole family will enjoy two nights at Embassy Suites Williamsburg, one of the area's premier lodging choices for families or couples. Their extra large rooms provide plenty of space for all members of the clan.
So, what's the big giveaway?
2 Season Passes to Busch Gardens Williamsburg
2 $25 Exxon Mobile Cards
2 Busch Gardens Tee Shirts
2 Water Country USA Visors
2 Nights Lodging at Embassy Suites Williamsburg (must be redeemed by Oct. 31, 2008)
Isn't that an awesome giveaway? So, what do you have to do to win? Just leave a comment on this post telling us how you've Boycotted the Staycation so far this summer. As Traveling Mamas, we've been doing our best to Boycott the Staycation by visiting Florida, California, Puerto Vallarta, The Grand Canyon, and of course Hawaii, just to name a few places. So, leave a comment and make some plans to enjoy Howl-O-Scream at Busch Gardens Williamsburg. Maybe you can even visit Colonial Williamsburg and bring home a mop cap. The park's annual festival of fright begins Sept. 19 and runs every Friday, Saturday and Sunday through Oct. 26.
For more information or for planning purposes go to VisitWilliamsburg.com, BuschGardens Williamsburg Official Site, and Embassy Suites Williamsburg Official Site.
Eligible entries are for US Residents only. Immediate family members of Traveling Mamas are ineligible for this contest. Leave a comment on this post, with up to one entry per calendar day, per email address. Contest ends midnight August 26, 2008. Winner will be announced on Winning Wednesday, August 27.