I was oblivious to the tourism importance of Man Malls until two appeared near my city. Hotels began to pop up, and even good ole Starbucks opened for business in these no-longer rural areas. My family decided to take a Sunday drive to Cabela's, located in Gonzales, LA. I was completely shocked when traffic halted on the I-10. It seems as if everyone else in the state of Louisiana had decided to check out this new Man Mall for themselves.
Local police officers were directing traffic into the parking lot (which was full, of course). We hiked a mile to the actual store and I had the Mama Death Grip on my children's hands so that they would not get lost from me in the mob.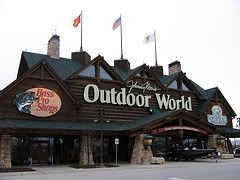 Promotions of Chevy giveaways and pictures with Nascar drivers were strategically placed near the entrance. The whole experience was reminding me of the bargain basement bridal gown sale that always makes the national news. I was expecting to get trampled at any moment.
And then we made it through the doors.
The scene was a wonderland for outdoorsmen (and women). Kids were staring in awe at the wide array of aquatic specimen in nearby tanks. Others were admiring the taxidermy exhibit of animals placed on a mountain. But the truest scene was of women sitting on benches checking mobile phone messages while their men competed for the attention of the store associate. It seems there was a limited supply of discounted knives, and these men just had to have one.
This parallel universe offered a respite, in the form of a General Store, for the women to wait on their men. The homemade fudge slices were calling me, where the kids and I waited for my husband to return triumphantly with his $9.99 knife.
To find a Man Mall the next time you need some hiking socks or a pink fishing pole, visit: Cabela's, Bass Pro Shops Outdoor World, or Gander Mountain.