Travel to Stonehenge and See the Rocks
My first introduction to Stonehenge was in history books and television. Then came National Lampoon's European Vacation. I had hopes and dreams of my dad driving my brother and I right up to monument, but not knocking it over like Clark Griswold. Alas, I had to wait until I was in my 30s to see this massive pile of rocks.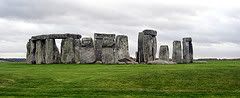 My freelance writing took me to London, on assignment, but I chose to hang around the UK a few days longer and take one of those soul-oh trips. I boarded a train to Salisbury (pronounced Sals-bury) to meet my friend and personal tour guide, Keith Kellett, a local travel writer. Keith resides in Amesbury, which is the nearest town to Stonehenge.
Our first stop was Old Sarum, the original settlement of the area. It was a perfect introduction to the history of town. The next stop was Woodhenge, which is believed to be the model for the actual layout of Stonehenge.
I spent time before leaving the US to research lodging choices in the area. Since the exchange rate from dollar to pound is HORRENDOUS, I was on a very tight budget. I found a quaint place to stay called The Antrobus Arms. Keith let me know that locals call the place "Old Auntie" right before he dropped me off for the night.
The place was actually a very cool place to stay. The gardens are right out of a Miss Marple episode, for all you BBC lovers out there. I was led upstairs to Room 20, which is where The Beatles stayed while filming HELP. I was tired from the journey, so I hopped into the shower. When I stepped out, I was startled to see Paul McCartney staring at me from the wall. No, I was not on any hallucinogenic. The walls were papered with The Beatles news clippings, handwritten lyrics, and pictures. My mother used to dream of marrying Macca. Of course, I had to call her and tell her where I was staying.
The next morning was Stonehenge. If anything, I was a bit disappointed. I think I had psyched myself up for a mother ship landing or some solar phenomenon to happen while I was standing there. What I wasn't expecting was having to park across the street with all the tour busses, walk underground to get to Stonehenge Theme Park, and then stand in line with a bunch of Japanese picture-taking tourists waiting to walk through the turn stall. WHAT? A freaking turn stall?
Keith and I were given museum-style listening devices where visitors are able to pick their language to hear all about Stonehenge, if you pressed the proper numbers at the corresponding points. So, I walked slowly around the rocks, following all the other tourists in typical cattle style.
Even though I didn't get to drive my car up to Stonehenge and back into the monument, I'm still glad that I was able to see the place in person. Well, that's another thing to mark off my bucket list. I'm off to my next stop in life.