Holiday Entertainment for the Family in Nashville plus Giveaway
Last year around this time, I enjoyed a day of shopping and visiting with my mom and aunt in Nashville. We walked through the Gaylord Opryland Resort, where I was astonished at the amount of Christmas lights that were on display. We spent hours catching up, admiring the various holiday scenes, and even enjoyed a few martinis at the Jack Daniels Grill. It provided the perfect spot for a girlfriend afternoon or even a family vacation for a few days. The horse drawn carriages in front of the resort provide the setting to make this a romantic escape, as well.
The Gaylord Opryland Hotel's Winter Wonderland will be one of the holiday "hot spots" for families and friends alike this year. Held in the resort's Ryman Exhibit Halls, this beautiful wonderland features many activities for "kids" of all ages, like Photos with Santa, Treasures for the Holidays Crafts Show, Hall of Trees display and a charity fund-raiser, a Christmas train and the return of Gingerbread Corner with gingerbread decorating classes taught by elves. Winter Wonderland begins Nov. 23, 2008.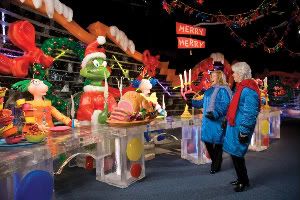 Gaylord Opryland is the only place in the world where the beloved Christmas story, How the Grinch Stole Christmas! by Dr. Seuss, is being retold in frozen form. ICE! featuring How the Grinch Stole Christmas! will run in its final year Nov. 14, 2008, until Jan. 4, 2009. Starting at the Grinch's frozen mountaintop lair, to the 20-foot high slides for kids and built-in photo opportunity stops, down to the picturesque Who-ville, complete with feasting Whos, ICE! featuring the How The Grinch Stole Christmas!will make even the coldest of hearts grow three sizes.
Don't miss your chance to be a part of the 25th anniversary of A Country Christmas and ICE! Vacation packages are available with two- to three-night options. To make reservations or for more information on A Country Christmas events, please visit www.gaylordopryland.com or call 1-888-999-OPRY (6779).
Gaylord Opryland has graciously offered a pair of tickets to ICE! for one of TravelingMamas.com lucky readers. Just leave a comment telling us a special memory you have that involves ice. Leave your comment before Tuesday, November 4 at midnight. Must be at least 18 years old, US citizen, and not be an immediate relative of a Traveling Mama. Winner will be announced sometime on November 5.