Mama on the Move: Segway of Hawaii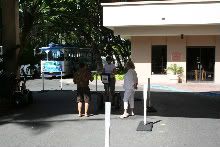 The other night I strolled along Waikiki Beach with my local friend Jeanne whom I met a few years ago. We watched the fireworks at Hilton Hawaiian Village that occurs almost every Friday night. I noticed a bunch of people on Segways and they looked like they were having a blast. So, I went ahead and booked a morning three-hour tour of Honolulu History and Culture.
First I was given a helmet, which made me feel a bit dorky, but for safety reasons I was glad to have something to protect my super powerful rock star brain. Alan, Segway of Hawaii owner, gave me a training lesson before the tour. At first I was hesitant, because this thing is just two wheels. It doesn't look like something I should step my chubby body onto, but Alan assured me the weight limit is 280 lbs, so I'm all good on that problem.
I stepped onto the Segway, thinking it would tip over, but to my amazement the thing balances itself. Before long, I was gliding in and out of cones and able to stop on a dime (almost). Michael, my tour guide, felt confident that I was able to maneuver the streets of Honolulu, so off we went.
We started off on Waikiki Beach, where people stared and pointed. Yes, I wanted to tell them, it is CajunMama in the flesh, don't be intimidated. We were almost like street entertainers, performing a ballet of environmentally friendly, gas free transportation, and I was the star.

Michael took Jeanne and I through bustling Chinatown, where I felt sure I was going to take out a pedestrian, but I did well, even when a store curtain blew into my face blocking my vision of the sidewalk baskets of fruit. Thanks to my pre-tour training, I was confident enough to maneuver around three baskets of bok choy and two elderly Asian ladies with canes. Whew! Crisis averted.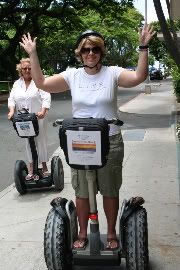 We stopped for a breather at Iolani Palace and glided by the King Kamehameha statue. Our return trip provided an open area for me to glide open wide. In fact, I think I'm ready for the Segway races now. I was glad I took the time for this environmentally friendly tour of Honolulu. The price of $130 for a historic, cultural and fun three-hour tour is worth it.
Now I can say, "This is how I roll."