Luxury Hotel in San Francisco Wins Over Moms – Hotel Vitale
Recently, I traveled cross country for a work trip to San Francisco. It was actually my first trip flying cross country and I was so amazed by all the beautiful views while flying. I am totally itching for more trips out west and especially ones that will bring my family along to experience the beautiful views.
This particular trip, my work put us up in the snazzy luxury hotel Hotel Vitale. As soon as I stepped foot out of the cab, I just knew this was going to be a terrific stay. You are greeted with a warm welcome by the hotel staff and given a warm lavender wrap for your face as soon as you check-in. Mom was getting pampered. Pure joy!
Once I made my way up to the room, I immediately took a peek out my window to see the view. The view was amazing.
I just knew I would be seeing lots of great sun rises and sunsets with this view.
The room was contemporary and comforting. It was so inviting as I was looking around the room. I was excited to have a king size bed all to myself. Mom was going to do some nice relaxing, that's for sure.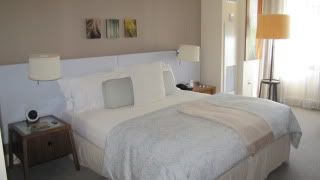 Each night, the hotel staff would turn down my covers and leave a water on the nightstand and chocolates on the bed. I was getting spoiled. Since I had a long flight and was awake early the morning of my arrival, I decided to relax for awhile and take in the beautiful view while reading a magazine. Hotel Vitale had the perfect place for me.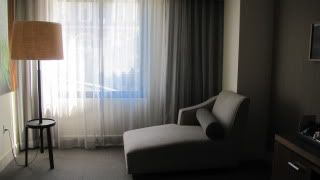 Of course, since this was a work trip, that would mean that I would have to work. The business desk was generously sized for all my needs and lots of outlets were in the room for all my technology.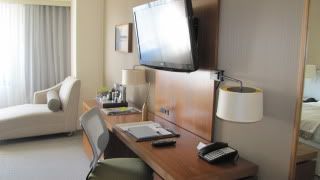 See that nice TV? I didn't even turn it on once, but I'm sure it was awesome!
When I went to unpack my belongings, I opened the closet area and was greeted by this wonderful white, soft robe.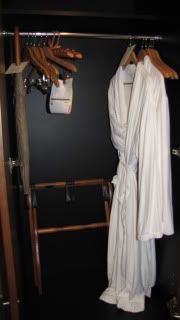 I told you mom was getting spoiled.
Bathrooms are always high on my radar in hotels. I need to have space and not feel claustrophobic. Space was indeed given in this room.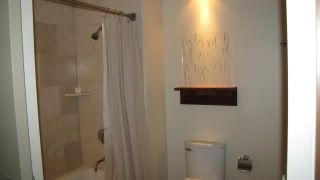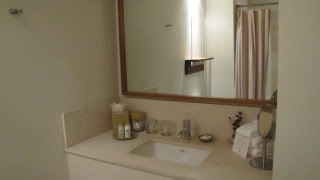 It's the little things that matter as well. The bathroom was equipped with cotton swabs, make-up removers, needle and thread, and pretty much everything a mom usually needs that she forgets to pack on a trip. Hotel Vitale was definitely thinking of moms when they were developing their hotel plan of action.
There was also a little snack area for if you get the munchies, but as in most hotels, the snacks were pricey. Save your money and head to Walgreens down the street to grab your snacks.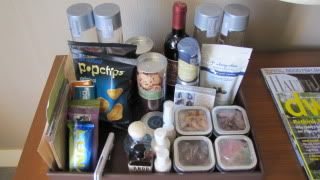 Another plus in a mom's eye, was the choice of newspaper each morning. The hotel staff would leave it hanging outside my door. Such a great way to start the day.
Overall, I was really pleased with this hotel. The entire property is very modern, sleek and luxurious. I would recommend Hotel Vitale for couples as well to have a getaway weekend. I honestly can't say that I have one complaint other than the high priced snack foods. The whole stay was a wonderful experience. Thank you Hotel Vitale!
Disclosure: I was no way compensated for this post. I just enjoyed my stay so much that I wanted to share with others. Work paid for the hotel by the way ;).