Family Fun in the Smoky Mountains
Everyone has figured out that my family really enjoys the area around The Great Smoky Mountain National Park. It reminds me of my childhood family vacations and the ones I spend with my own little family. In fact, the CajunMama family will be spending the last week of July in the Smokies. Last year we lodged at Oak Tree Lodge, which had an swimming pool with an awesome slide, kiddie play area, and even a great continental breakfast (with waffles too). It was right in the middle of Sevierville, which was close to all the family action. This year we booked a cabin at Vacation Rentals by Owner so that we can experience more of a rustic mountain feel.
The CajunMama family prefers to take a road trip to this destination, but those wishing to fly can get wonderful deals by flying into Knoxville, TN. It is about a 45 minute drive to the area around the park, where the accommodations, attractions, and restaurants are plentiful.
Here are a few top family attractions around the mountains:
1. The Great Smoky Mountain National Park
The park offers easy to moderate trails for a morning stroll or a day hike. More adventurous families may opt to overnight in the park, but be sure to watch out for bears! Guided ranger walks depart daily from the Sugarlands Welcome Center and kids can even complete tasks to become a Junior Ranger. This is a fantastic way for a family to discover nature.
2. Dollywood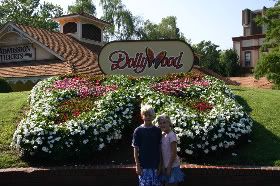 During the summer, Dollywood hosts KidsFest, which offers entertainment and activities for kids of all ages. Last year we went and enjoyed some of the live music, we learned about Appalachian families and their way of life and even got to see an old schoolhouse. The kids even did activities and science experiments, like making Goo. There are rides that thrill, such as The Mystery Mine, and those that relax, like the Dollywood Express. This year during KidsFest, the Kratz Brothers (Zaboomafu) perform a live show throughout the summer.
3. Dolly's Splash Country
If you liked Dollywood and you enjoy water parks, then Dolly's Splash Country is the place for you. I've visited many a water park as a Traveling Mama, and I have to say that Splash Country is one of the cleanest I've come across. I felt safe taking my children, and they even offer wristband technology that helps you track members of your group throughout the park. For extended families, cabanas and riverside cabins are available for daily rentals to provide a shaded area for your group. The entire water park is themed around the destination, My kids really loved places like Fire Tower Falls that reminded them of their daddy, who was away fighting wildfires. It was a fun day to spend with the kids and a great way to stay cool!
4. WonderWorks
This place is definitely an amusement park for the mind. If you are looking for an entertaining place on a rainy day or the evening, then you'll find WonderWorks full of visitors. It is also great anytime. I took the kids at about 6:30PM one evening and they had to kick us out at midnight. It is full of cool scientific activities and optical illusions. Just look for the upside down house and you're there. And if you're hungry, the onsite Hoot'n'Holler Dinner Show is a blast.
5. Forbidden Caverns
Open from April to November, these caverns give families a glimpse of what is hidden beneath the mountains. There are trails that weave in and out of sparkling formations and secret grottos. The Eastern Woodland Indians once frequented the caverns, and in later years became a place to hide moonshine. Now families can experience this geological wonder.
6. NASCAR Speedpark
Feel the need for speed and can't get to Daytona? No worries. NASCAR Speedpark offers tracks to accommodate each member of the family. Indoors is a full arcade and a burger restaurant. An all-you-can-ride pass will run you about $30 per person.
7. Ripley's Old MacDonald Mini-Golf
I know, I know. Mini-golf. My son BEGGED to play mini-golf and we ended up having a wonderful time giggling and laughing at all the barn animals that heckled us during our game. And don't get me started about the arcade. My son beat me in Air Hockey and I couldn't get my daughter off of Dance Dance Revolution.
8. Rainforest Adventures
This place is home to hundreds of animals. It located on NASCAR Drive, near the Speedpark. We didn't get a chance to check it out yet, but all the locals rave about it.
9. The Apple Barn and Cider Mill
As someone who lives to eat, my entire family enjoyed breakfast at The Apple Barn. Each table is served with an Apple Julep, Apple Muffins with Apple Butter and a few other enticements. And this was all before we even ordered! My son is a big fan of this place and will only eat Apple Barn Apple Butter with his biscuits. No other brand or homemade concoction can compare for him. In fact, when we ran out, he had a major meltdown one morning before school. Thank goodness my grandmother had an extra jar. This place isn't just a restaurant, there is the winery (hello!), a Christmas store, the candy store where you can watch candy being made, the ice cream shop, and even an apple pie/cider bar. I think I gained ten pounds just from one visit. And yes, we bought a case of Apple Butter.
10. Dixie Stampede
No need for silverware when you can eat with your hands! Dixie Stampede offers a musical version of an American Civil War re-enactment complete with live animals and tasty vittles. Kids will enjoy this dinner and a show where they get to drink soup out of a bowl and eat their baked chicken with their hands. It really is a whole lot of fun.
Be sure to visit the Sevierville Visitors Center for money-saving coupons and coloring books for the kids and visit their website for great info for your visit.