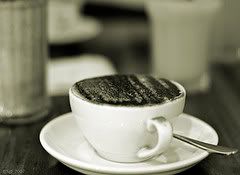 For those of us who are addicted to coffee and its many variations, finding a decent cup of java while on the road can present a challenge. I'm a big Starbucks fan, but I occasionally frequent independent coffee shops, just for a little variety.
Yesterday, I thought I would try McDonald's new iced coffee drink that is being advertised. I've tried Burger King's iced mocha in the past, and it would do in a pinch. I've also sampled Sonic's frozen coffee blend, which while the taste was decent, I could feel the fat contained in this concoction sliding down my throat and straight to my behind. Well, all I can say about McDonald's new iced coffee is, "Run away!"
McDonald's iced coffee was the most disgusting thing that has ever passed through my lips.
I usually try to find something redeemable to say in my experiences and to make my opinion a bit more palatable, but there is no other way to word this opinion.
So, how do you find good coffee while on the road?
Text: Send a text message to Google (466453) with the subject coffee
Web browser: Find the nearest Starbucks at mobile.starbucks.com
Phone: If all else fails, call 800-235-2883 and the Starbucks operator will assist you in locating the nearest Starbucks.