Contest Giveaway – Houmas House Gift Pack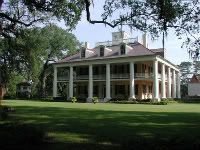 I'm so proud to be from, and live in Louisiana. One of the things I love about my state is the preservation of history and the gentility of the South. One place that is preserving the history of my state is Houmas House. It is a River Road Plantation that was purchased about five years ago by Kevin Kelly, a true southern gentleman. He took this old grande damme and gave her a facelift and love and turned her back into the great beauty she once was.
Houmas House is the site of numerous films including Hush, Hush Sweet Charlotte, Fletch Lives, and television shows like All My Children and K'Ville. It is also reportedly haunted by a few ghosts of days gone by.
I like to start each visit to Houmas House with a stop at the Turtle Bar for either a mimosa or a mint julep. The Turtle Bar is located in a garconniere, which in Antebellum days housed the single males of the household. It was a place for cards and raucousness, so it is fitting that this historical building is now a cozy place to sip libations.
The resident chef, Jeremy Langlois, creates Nouveaux Creole dishes that are "to die for". On my last visit, Chef Jeremy prepared a multi-course meal consisting of Bisque of Curried Pumpkin, Crawfish, and Corn, a Cosmopolitan Sorbet, a Community Coffee marinated rack of lamb served on top of potatoes, and dessert of Apple Gallette topped with Vanilla Ice Cream. Mmmm!
An after lunch stroll through the gardens and walkways is a nice prelude to the tour of the house itself. I could imagine myself living in grandeur once upon a time. It's a good thing I keep my bookshelves stocked with romance novels. I can see Houmas House as the setting for a few of them.
This week's giveaway is a gift pack from Houmas House. The pack consists of a nice crystal paperweight, coffee mug, and silver-plated sugar pack holder in the shape of a garconniere. These come in a handy reusable logo bag.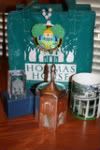 So how do you win this fantabulous gift pack? Post a comment telling us where you live and why you like to live there. Contest is open to US residents only and immediate family members of Traveling Mamas are ineligible. Contest will close at midnight EST April 1, 2008. Yes, this is April fool's day, but we'll announce the winning comment on April 2, so there'll be no fooling around.
Good Luck!