Motherhood of the Traveling Pants
The Traveling Mamas are always on the lookout for great travel and fashion finds. We do our best to find clothing that is both practical and stylish, so that we can look and feel great while traveling. One item that is essential to any travel wardrobe is a nice pair of jeans. After all, jeans are versatile and can be worn in casual situations or dressed up for a night on the town. One cool company, Joe's Jeans, wanted the Traveling Mamas to travel like rock stars, so they sent us each a pair to test out.
DesertMama says: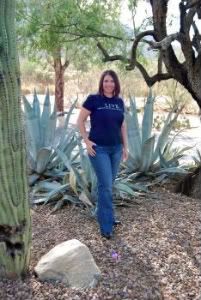 I am a jeans gal, always have been, always will be. But for me, finding a good pair of jeans is a challenge, especially since becoming a mama. Two years ago I found my favorite brand of jeans. They're not cheap, but they're worth it because they fit me (or shall I say my curves). When I heard Joe's Jeans wanted us to check out their jeans my stomach turned. It had taken me years to find the brand I'm loyal to – what are the chances Joe's would fit?
The day the jeans arrived I nervously pulled the Muse style jeans up my legs and over my hips and to my surprise the jeans not only fit, they look cute. Super cute! I certainly needed a trip to the tailor to shorten the length (good news for tall mamas) but other than that, they fit perfectly. I have several escapades on the horizon and can't wait to travel in them. In the meantime, here in the Arizona desert the weather is getting chilly and I can't tell you how much I am loving walking around town in my Joe's Jeans and boots. Yep, DesertMama is feeling like a rock star. Oh, and did I mention I said farewell to my former favorite brand? This TravelingMama has a new love – Joe's Jeans!
MudslideMama says: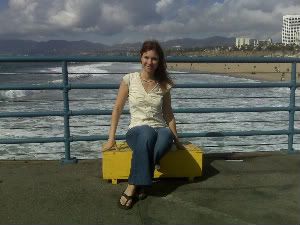 Living in Southern California means sunny, beach-worthy weather almost year-round. Having young kids enjoying outside activities here throughout the year means, in part, that I need a great pair of jeans. After all, Los Angeles invented casual style (no one wears ties to the office in LA anymore), and it's nice to look good even while chasing kids along the Santa Monica Pier.
Joe's Jeans fit my needs to a tee. They are incredibly stylish, and so soft there's none of that "breaking in" period. You know, where you have to toss your new jeans in the wash for a few cycles before they feel good? These jeans are comfortable from the get-go. My Muse style are made with 2% Lycra. This helps the jeans retain their shape, even when I eat too much of the kids' Halloween candy and can't retain mine! No doubt about it: Joe's Jeans are the best pair of jeans I own.
MountainMama says:
After checking out the Joe's Jeans website, I thought there was no stinkin' way these jeans were going to fit me. The models on the site are super tall and super slim, so I ordered conservatively (read: a size larger than I normally would). Lo and behold, my high-waist-style Muse jeans fit beautifully, even a bit big around the waist, namely because the material is super stretchy.
Now, I'm nearly 5'9″ and this style is long on me! Beware to buyers under 5'7″ — Joe's Jeans will likely either be plenty long to wear with high-heeled boots, or perhaps consider the petite sizing. Also note that even though the Muse line is marketed as "high waist," they land at the mid-waist: perfect for Mamas like me who don't like jeans too low slung.
Truly, these are the softest jeans I've ever had on my body. Normally I don't wear jeans on planes; I go for drawstring cotton pants or too-big capris since I hate having waistlines cut into my belly while I'm seated for so long. But I won't hesitate to sport these on my cross-country flight later this month. I know I'll be plenty comfy. (Not to mention I'll be lookin' mighty fine, if I do say so myself!)
CajunMama says: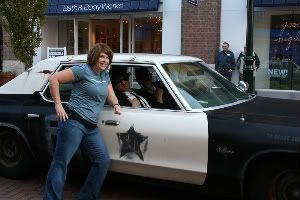 Jeans are a must-have item in the Southern US, where I live. I normally wear petite (short and fluffy) and reviewed a pair of Provocateur/Blanche Joe's Jeans. When the jeans came in, they were still a little long, but I had them hemmed. I was hesitant about the jeans at first because I just don't spend that much on jeans. I spoke to a few of my neighbor mamas and found out that they think of good jeans as an investment in yourself. The retail price of $178 made me a little skeptical, but after sliding these jeans over my hips and wearing them, now I understand why someone would pay a little more for a great pair of jeans. They are soft, comfortable, and I have to say that I felt like a hot mama with these on my big ole behind.
These jeans are made for REAL women and even come in styles for men and children, too. I was so confident in myself with these jeans on that I stopped a parade to get my picture taken with these Blues Brothers look alikes. Rock Star, indeed!