Giveaway: Josh Groban's Awake: LIVE CD/DVD set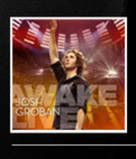 I HEART Josh Groban. There. I've stated it to the world. I'm also excited to have a copy of his Internet Limited Edition CD/DVD Awake: Live which includes bonus tracks.
I listened to the CD this weekend while cleaning the house and boy does it have some tracks that are perfect for a romantic roadtrip. Josh's silky sexy voice turns my knees to jelly. In fact, I almost didn't get the house cleaned because I put in the DVD after I was finished listening to the CD.
Never fear, you have a chance to win your own copy. In fact THREE of you will have a chance to win a copy of Awake: LIVE. Just leave a comment about Josh Groban and his music and you will automatically be entered to win.
If you don't win, you can still buy a copy. And be sure to catch Josh in concert or even on the television. Check out this 20 minute AOL video: CLICK HERE TO WATCH
Contest ends at midnight on May 20 (tomorrow). We'll announce the winners this Winning Wednesday, May 21.