Romance and Family Fun at Marriott's Ko Olina Beach Club
Ko Olina. Just the word emits sighs from people when I asked for directions, as if I would be visiting a sacred place.
"Oooh. You are going to Ko Olina? Niiiiiiice!" was the typical response from locals on Oahu.
I was so excited. I had a rental car and I took off to explore the west side of Oahu, a place I had yet to experience, since during my last visit to Oahu I got LOST. The drive was very easy from Honolulu International Airport. I turned off at the Ko Olina exit and made it to a guard gate.
"What the heck place was I going to?" I thought, just as the guard waved me through.
Paradise. That's where.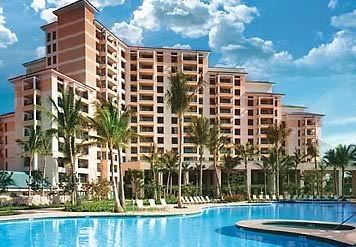 Ko Olina is a gated resort community located on Hawaii's west side and was once the playground for Hawaiian Royalty. Seven tropical lagoons gently fold into the pristine shoreline creating serene sandy beaches, tranquil turquoise whispers of the mighty Pacific, and endless opportunities to linger in paradise. And linger was just what I wanted to do.
I checked in to my studio room at Marriott's Ko Olina Beach Club and was excited to see a small kitchenette topped with granite counters. The bed was stacked high with fluffy pillows and my balcony view of the ocean was breath-taking. I began to relax as soon as I dropped my bags.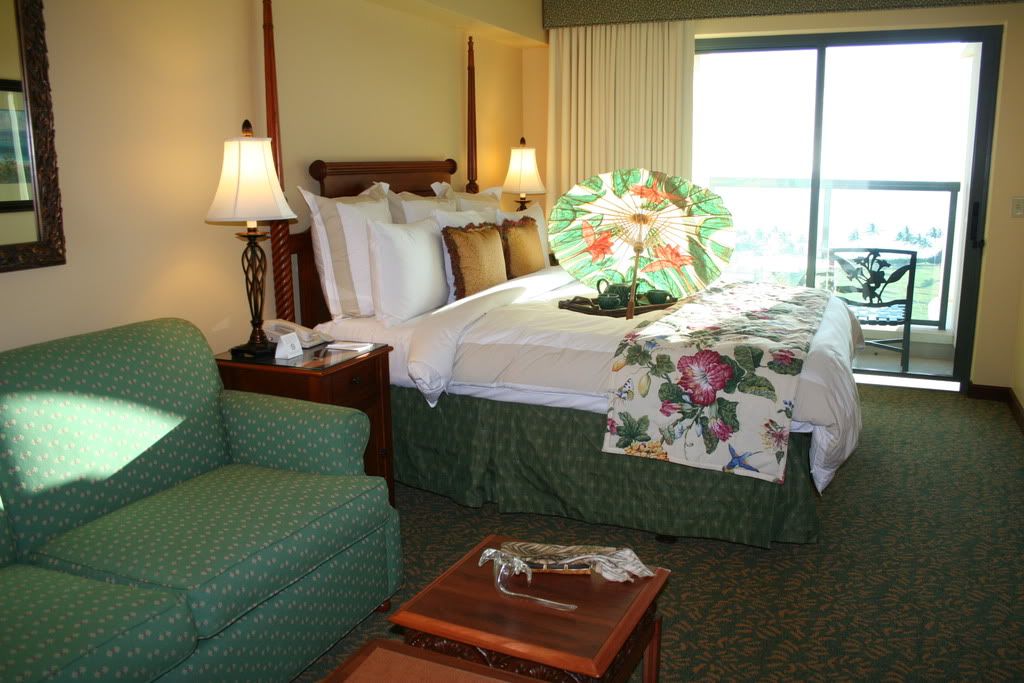 The Marriott Ko Onlina Beach Club isn't just a hotel, it is also part of the Marriott Vacation Club. Visitors can choose to lodge in a studio (like me), a one bedroom complete with dining room and full kitchen, or as big as a three bedroom villa that can comfortably sleep ten.
This place is set up perfectly for anyone, from romantics to entire families. Plus, the rooms are so quiet, I didn't hear any neighbors. I didn't feel like I needed to leave for anything.
Travelers can purchase supplies along their route to Ko Olina, or take advantage of the many restaurants and stores. There are spa services offered inside the fitness center, and me being me, I just had to indulge in a lomi lomi massage. And I was so glad I did. I chatted with Gabriella about Ko Olina, and she admitted to me that her parents who live on the island like Ko Olina so much, they purchased a few weeks for themselves. Now if that isn't a statement of how wonderful the place is, I don't know what is.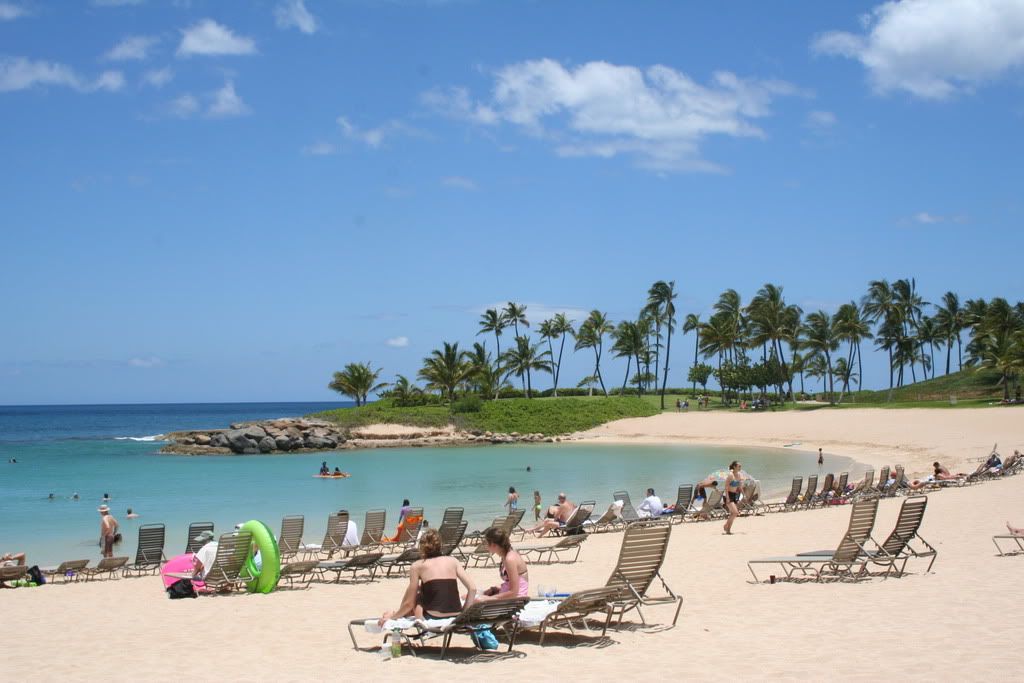 I spent some time enjoying the gorgeous crescent shaped beaches sunning myself in one of the chair cabanas that are available for rent. The double chairs were all taken and I settled for a single, which I must say was very awkward . The rope that holds the shade up ends up right between the legs. Yup. A rope, right between the legs. Did I say, awkward? Next time I would go for a sunburn in a regular chair, but it sure did feel cool to sit in one of those things with the shade covering me like a celebrity. Supa Stah!
Nearby the beach area is Kolohe's Beach Bar and Grill. It was the perfect break from the sun to sit at the bar and sip on a cool concoction of spirits. I didn't drink too much because I didn't want to spoil my dinner. After the stint with the beach chairs, I went to Chuck's Steakhouse for a wonderful meal, complete with an enticing view of the pool and beach areas.
After dinner that evening, I took a stroll down the beach walkway and sat under a palm tree gazing at the stars. I could see so many at Ko Olina. I kept thinking that it was such a different feel from Honolulu and Waikiki, which definitely has that city feel, yet with a laid back attitude. Ko Olina really felt like paradise.
My time spent there was too short, so I'll have to plan another visit, with Mr. CajunMama in tow. We can enjoy the view, the atmosphere, and of course spend time with each other. Or we could even return with the entire family. The kids would enjoy the pool, beach, and just being in Hawaii. Marriott's Ko Onlina Beach Resort is definitely a little slice of paradise for couples and families to enjoy.