Hampton Inn and Suites Nashville at Opryland Served Us Well
Over the last week, Carolina Mama and I traveled to Nashville, TN to participate in the fun and eventful Blissdom Conference. Due to my busy schedule and procrastination, we were only able to score two nights of the conference at the Gaylord Opryland Hotel. Never fear as there are hotels all around the Gaylord Opryland, so after reading many reviews decided to give the Hampton Inn and Suites Nashville at Opryland a whirl!
This turned out to be a positive decision as the Hampton Inn Opryland totally rolled out the Red Carpet for us and treated us well. One of the first amenities that caught my attention was they offer complimentary shuttle to and from the Gaylord Opryland Hotel and also to and from the Airport. The Gaylord Opryland wanted $40.00 round trip shuttle to the airport and here we received complimentary shuttle service with Hampton Inn Opryland. Totally appreciated.
As we finally made our way to the room with our luggage, we were immediately met with such a neat and beautifully designed room. The beds were very modern in design and of course one of my favorite things about Hampton Inn's is the pillow top plush mattresses. After being on your feet all day, the mattresses were so calling our name.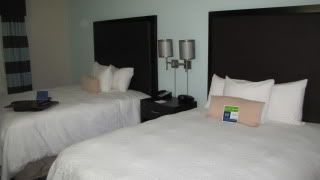 Nice little business desk that had all the outlets that our little technology driven bodies needed.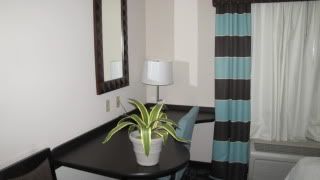 Super cool flat screen plasma TV that I was so wishing I could just pack away in my suitcase and take home with me. It is just so nice to be able to relax in your bed and have such great technology to view some shows before your eyes actually finally shut.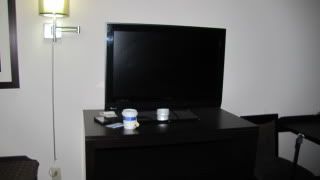 The bathroom, the room that always catches my eye when traveling, was very modern as well and nice sized. You were not cramped for space at all.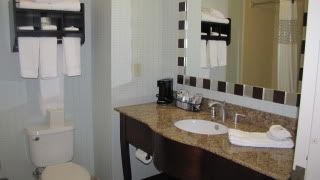 After a great night's rest, I was up early to catch a flight home, but not before taking in the free breakfast. Now, this is not your normal donuts and juice free breakfast. Hampton Inn Opryland provides a warm breakfast with all your healthy needs as well with fresh fruits, yogurt and oatmeal. So great to not have to worry about breakfast on your own before rushing out the door to catch a shuttle to make your flight.
Well done Hampton Inn. I have been a fan for a while now, but you just solidified the relationship even further!
Disclosure: I was not compensated for this post in anyway. I was a full paying customer that just happens to love Hampton Inn so much and wanted to share with you an alternative to a hotel in the Opryland area.