Winning Wednesday: Tots on the Go
Wow! What a response for the Tots on the Go Giveaway!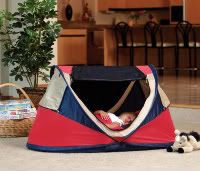 We had two hundred entries and almost a thousand lurkers. The TrendyKid Trunkie TwoGo and The Go-Go Babyz Infant Cruizer were two of the top picks, but the number one choice for the prize ended up being KidCo's PeaPod Plus.
There were some great entries, such as Cindy Beckman who commented, "Sit n Stroll by TriplePlay is absolutely wonderful. I wish it were around when I had my first child. Thanks for a great giveaway!"
Erin Daly said, "The Ultimate Toy & Travel Bag looks great for those long car rides this summer." The Traveling Mamas couldn't agree more.
Our winner for the Tots on the Go Giveaway is Elizabeth M, who stated, "I think the KidCo's Pea Pod would be fantastic for traveling!" Congratulations Elizabeth. Tots on the Go will be contacting you to find out where to send your KidCo PeaPod Plus.
Thanks to everyone who entered and a special thanks to Tots on the Go for helping us with this great giveaway.